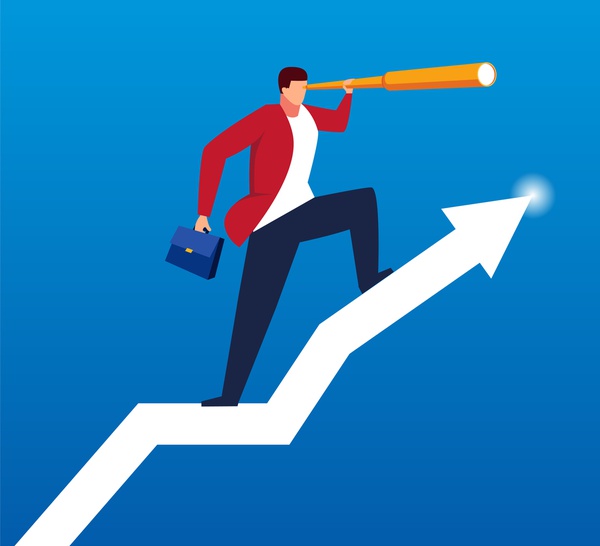 What Businesses Need to Know About the Insurance Market Outlook for 2022
Posted: 4 months, 1 week ago
The last few years have been a challenge for many businesses due to a number of reasons (some more obvious than others). Some of these factors have also had a negative effect on the insurance industry after years of relative stability, which has accelerated a hardening insurance marketplace. This means that many segments of the insurance industry are becoming less friendly to insurance buyers. Going into 2022, we should be prepared for a challenging insurance environment to remain but we could expect some improvement from 2021. In this blog, we'll do an overview of the 2022 insurance marketplace and kick off a series of blogs on this topic so businesses (and individuals) can be more prepared when reviewing their insurance solutions.
---
What is a 'hard' insurance market?

The commercial market is cyclical and that means that over time, we have witnessed a fluctuation between hard and soft markets. A 'hard' insurance market can be characterized by stricter underwriting, restricted terms of coverage, less capacity and less competition - which unfortunately also mean increased premium costs. On top of that, insurance carriers are more likely to exit certain unprofitable lines of insurance. Over the years, we have witnessed this in a number of industries including areas of healthcare, towing, transportation, and hospitality.
We have seen the market harden for a short time on a few occasions but the last sustained hard market occurred in the 1980's. Our agency President, Brian Bartosh, recalled some of the unique ways we secured coverage for our clients. In some instances, agents negotiated with multiple companies to "share" the exposure when the limits needed were too high for one company's capacity.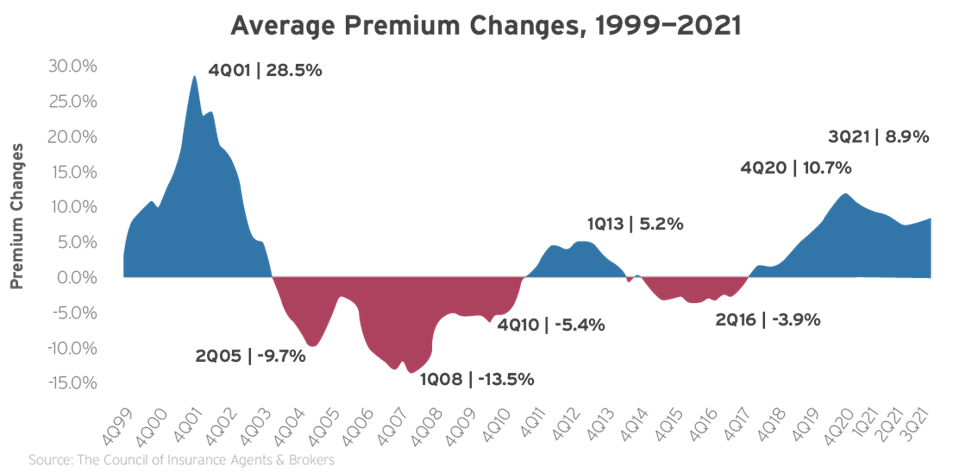 The graphic above provided by Zywave (via The Council of Insurance Agents & Brokers) shows the cyclical nature of the insurance market from 1999 - 2021.
---
What factors are causing the 'hard' insurance market?

Many factors affect the cost of insurance but the following are a few of the common contributors:
The Economy
Inflation
Catastrophic (CAT) Losses
Inconsistent Underwriting Profits
Return on Investments
The Cost of Reinsurance
---
What factors influence my insurance rates?
While the reasons above can make it difficult for consumers to secure their desired coverage at the expected price, there are additional factors that influence your insurance rates. Here are a few of the main components that factor in when pricing your coverage:

Industry - Of course, certain industries carry more risks than others. For instance, the pricing, coverage conditions and availability are significantly different if you're a crane operator versus a retail store.
Size of you Business - The Liability and Workers Compensation are driven by

sales

and

payroll

. So the larger your business, the more likely you are to pay higher premiums due to volume of sales and payroll. This can also factor into your auto policy for a fleet of vehicles, employment practices liability, cyber liability and more.
Coverage - Obviously, the type of insurance you're seeking will also affect your annual insurance costs. Not only the policy types (Property, General Liability, Auto, Umbrella, Employment Practices Liability, etc) but also the limits or values selected.

Total Insurable Value (TIV) - The more property coverage required to protect your business, the higher your premium will be.
Liability Limits - Each layer of liability you add on will increase the cost. For instance, many businesses start with limits at $1,000,000 and co up from there.

Claims History - As mentioned above, if you're in a high risk industry that is more likely to experience a loss or a catastrophic loss, that will impact your rates. In addition, if your business's claim history (confirmed with 'Loss Runs') will also have an impact on insurance rates. If you are experiencing frequent claims or severe claims, the underwriters tend to view your business as one that is more likely to file a claim.
Risk Management - This is a broad term but can be designed to help control not only your up front insurance costs but also to avoid future losses. Security and safety procedures in place can help provide some financial relief while you can also look to "self-insure" some exposures with a higher deductible or simply financing the risk through other methods.
While insurance buyers may face more complex decisions regarding their insurance during a hard market , with some additional preparation, they are not without recourse. It is important to be proactive when addressing your risk management plan and to be educated on the trends that influence your insurance. It was not mentioned above but Loyalty can also be helpful when renewing your insurance. Some companies we work with have demonstrated extreme consistency in pricing year to year and underwriters are often more flexible since they understand the history of the risk. So it is not always advantageous to jump at the next 'shiny object' without careful review and consideration.
---
What trends do I need to watch for in 2022?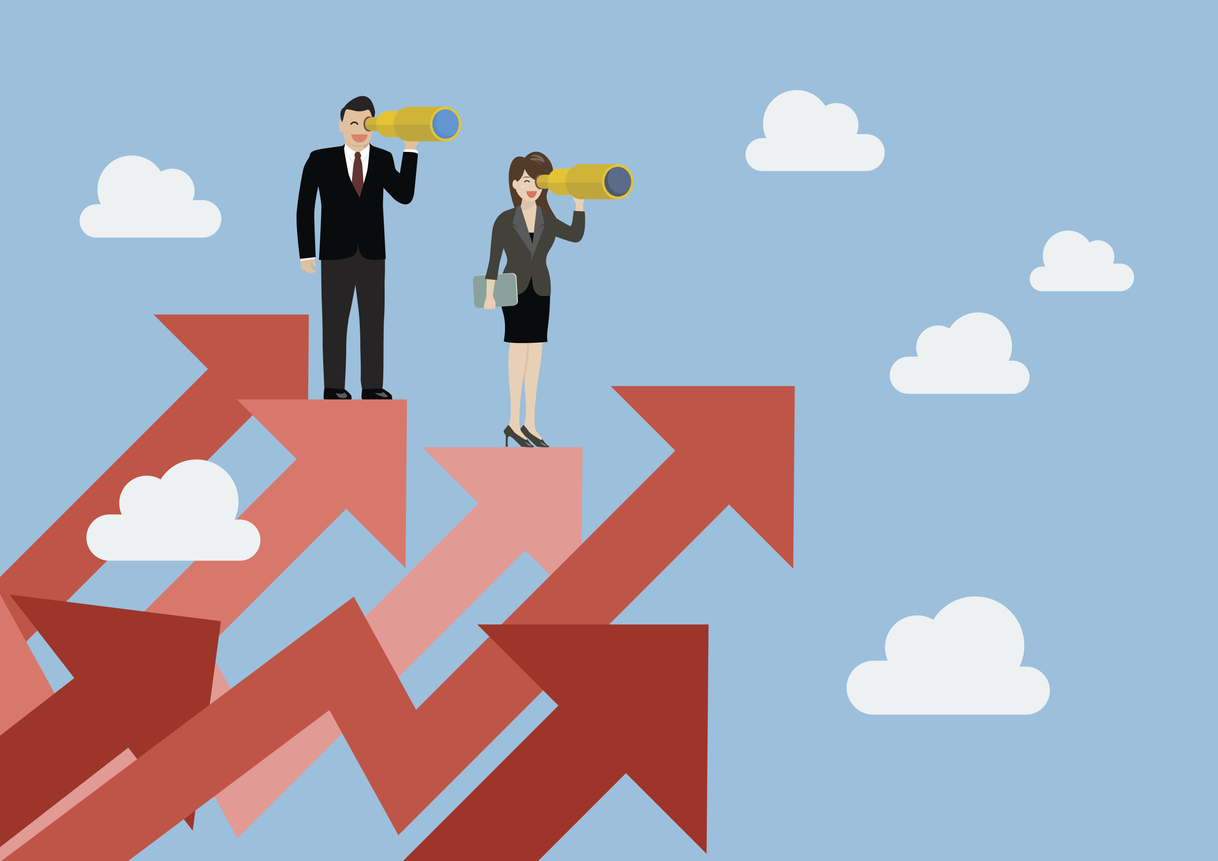 Unless you have been living under a rock, you are most likely aware of the economic and social challenges we're collectively facing. These challenges will continue to shape our economic and insurance trends for 2022 and beyond. Let's take a look at a few of those trends to consider when making decisions for your business.
Economy - This is a very encompassing word which includes a number of sweeping developments for consideration.

Labor Shortages

- Businesses have had to adjust in a number of ways to attract and retain talent. The pandemic has caused many workers to reevaluate their employment priorities while many unemployed individuals have become apprehensive of returning to the workforce. To help combat the labor shortages, businesses have gotten more creative and generous with their workplace adjustments including referral bonuses, work from home, additional benefits, new technology and flexible hours. Businesses will need to continue to push the envelope to attract and retain their employees.

Supply Chain

- Whether it was the dependency of products produced overseas or the strained transportation industry, a range of supply chain disruptions have taken place since the onset of the pandemic. You've seen the images of shipping containers stuck at port, truck driver shortages and even theft of packages directly from the trains. The supply chain issues don't stop with physical goods, it has also led to a "service supply chain" issue where processing and response time have bottle necked. It is important to understand these challenges and develop contingency plans if possible to pivot your operations.

Inflation

- The issues above have in large part, fueled the rising inflation issues. When we are seeing inflation rates well above 6%, this means the cost to repair or replace property has increased and vehicle repair expenses are surging. Insurance carriers are often forced to increase prices to keep pace with these volatile trends.

Social Inflation

- You may have heard this term used in reference to rising cost of insurance. Social inflation refers to the societal trends that influence the rising costs of insurance claims and lawsuits. There are a number of factors that hit the ever-rising social inflation costs including litigation funding by third parties, tort reform, length of time to settle due to the backlog in the courts, plaintiff-friendly legal decisions and large jury rewards.

Extreme Weather - Unfortunately, while we dealt with a virus and economic disruption, extreme weather events likes hurricanes, wildfires, tornadoes, and hailstorms have continued to rage on. Many experts believe that severe storms, temperatures, wildfires and flooding will be the new norm. With an increase in frequency and severity, insurance costs are sure to follow.
Social Movements - We cannot ignore the surge in social movements to push for accountability and equality. Regardless of which side of the fence you're on, they are here to stay. Not only have protests and civil unrest rippled through cities, other movements like the #MeToo movement have helped with sexual harassment issues in the workplace. These movements have caused an increase in employment related lawsuits impacting certain lines of insurance coverage to defend.
---
What should I expect for insurance pricing in 2022?
Insurance pricing forecasts are based on industry reports for various lines of insurance. These are not a guarantee or premium rates and should only be viewed as general information (not insurance or legal advice). According to Zywave's 2022 P&C Market Outlook, various lines of insurance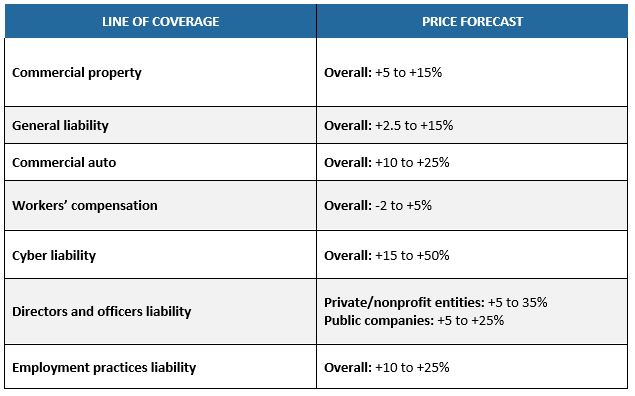 coverage are expected to rise but some more than others. The table to the right shows what they have projected per line of business.
DO NOT PANIC! We have outlined a number of factors that have made the insurance buying process complex and it may feel unpredictable. While it may seem that rate increases will continue through 2022, some data suggests this may be wishful thinking by insurers. Not all lines of coverage are experiencing heavy losses or rate increases. "AM Best has revised its market segment outlooks to stable for workers' compensation, commercial property and surety. The outlooks for commercial auto, general liability, medical professional liability, and professional liability are negative."
So, regardless of what the insurance market is doing, there are a few ways you can achieve better results in your insurance renewal process.
Plan ahead and with ample time to take inventory of your current coverage needs, make adjustments and seek other potential solutions.
Work with an independent agent that has the knowledge and access to markets to help provide you with options. Your agent is your direct line of communication to the company and has established relationships with the underwriters.

This means to have information available, be honest and up front with your agent so they can help protect your exposures.
Top O' Michigan acts as your 'expert buyer of insurance' and can help navigate this process with you.

Be proactive with your risk management plan. Be sure to address any potential loss control recommendations such as repairing property, using methods of risk transfer including contracts, or improving safety measures.
And remember, the insurance market is cyclical so we should expect it to level again as the financial climate adjusts.
---
For more risk management guidance or questions about your policy's coverage limits, contact us today.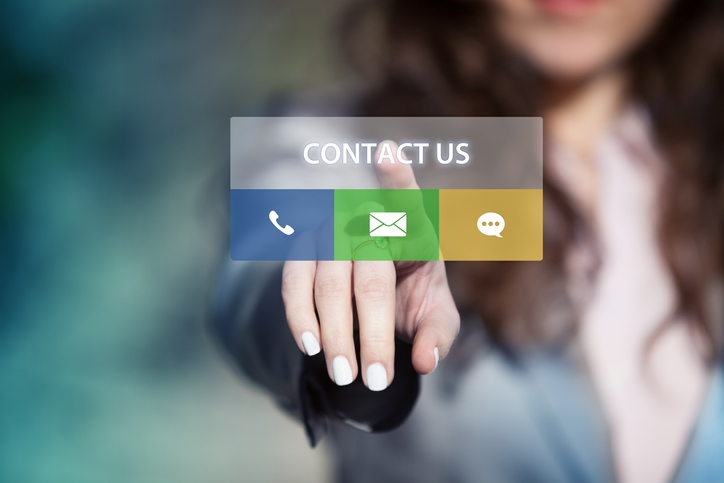 ---
More Industry News
Want to stay up to date on the latest community and insurance news? You can find more on important topics on our blog.
About Top O' Michigan Insurance Solutions:
At Top O' Michigan Insurance Solutions, we pride ourselves on using our skills to provide clients with competitive pricing, stability and understanding, and peace of mind. With seven locations throughout Michigan and 24/7 client access, our team is your 'expert buyer' of insurance for home, auto, farm, boat, motorcycle, business owners, workers compensation, bonds, life and health, employee benefits and more.
We will provide unparalleled and caring service to our clients through our knowledgeable staff and give back to our employees, agency, industry and our communities. Part of our mission is to give back to the Michigan communities we serve. This is something we take action on through We Care and you can learn more about our community outreach at TOMIA247.com/WeCare.
National Resources, Locally Sourced.
---
Disclaimer: This Blog/Web Site does not provide insurance or legal advice. This site is for educational purposes only as well as to provide you with general information and a general understanding of insurance, not to provide specific legal advice or specific contract advice. Viewing this site, receipt of information contained on this site, or the transmission of information from or to this site does not constitute a client relationship.
The information on this Blog/Web Site is not intended to be a substitute for professional insurance or legal advice. Always seek the advice of a licensed agent in your state pertaining to insurance and legal issues.
Author: Tyler Bartosh
Sources: Zywave, Business Insurance Canada, JDSUPRA.com, InsuranceJournal.com
Share on Facebook
---