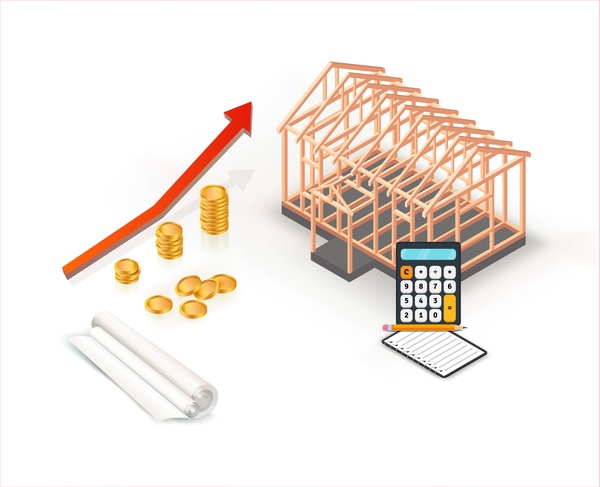 How Does the Increase in Cost of Construction Impact Your Insurance?
Posted: 3 weeks, 2 days ago
By now, you are most likely well aware of the rising costs of construction materials. These rising costs have been noted but many individuals and business owners may not be fully considering its implications on insurance policies. According to an Associated Builders and Contactors analysis, lumber prices have risen by 73% since April of 2020. Lumber isn't the only construction material to have taken such drastic increases. Prices of both lumber, Iron/steel products have increased by as much as 20-25%.
Recent findings from the National Association of Home Builders (NAHB) confirmed that household construction costs have surged over the past year. This rise in construction costs is directly tied to soaring building material expenses—namely, the price of lumber. According to the NAHB, current lumber costs are up 340% from 2020. What's more, lumber prices have already risen by an additional 67% since the beginning of 2021.
There are several reasons for these higher expenses. Specifically, both the COVID-19 pandemic and the presence of historically low interest rates have contributed to a rise in home purchases and renovation projects—thus elevating the demand for building materials. Nevertheless, this increase in demand has been met with supply shortages throughout the construction industry. In the midst of greater demand and lower supply, building material prices have subsequently soared. However, we may be moving in the right direction as inventory shortages begin to ease and seeing some reduction in lumber prices over the last few weeks. At any rate, these fluctuations have a major impact on your property and insurance valuations.
---
The Impact on Insurance
Unfortunately, this surge in costs could pose coverage consequences for policyholders across the country. After all, increased building material and construction prices could lead to higher property insurance claim expenses, seeing as it would currently cost more to repair or rebuild a home following a loss.
As a result, policyholders could discover that their existing policy limits and coverage features no longer offer adequate protection—leaving them financially vulnerable in the event of a loss.
Further, insurance carriers may increase policyholders' premium costs to account for the risk of elevated claim expenses. Coverage limits must rise in order to provide full recovery on a property loss needing significant repairs or a complete rebuild after a loss.
In light of these ongoing cost concerns, it's important for policyholders like you to respond accordingly. As such, consider taking the following measures:
Review your policy. Be sure you fully understand your insurance policy. Take note of whether you have replacement cost coverage (which can offer compensation for the cost of replacing or rebuilding as new) or actual cash value coverage (which can offer compensation for the depreciated value). Ensure your policy provides a correct replacement cost or overall value for your property.

Consider coverage adjustments. Consult a trusted insurance professional to help you determine whether you need to adjust your policy to have sufficient coverage in the event of a loss. This may entail changing your policy's valuation method, increasing your current limits, obtaining specialized coverage or implementing a policy endorsement.
You may also obtain coverage for increased cost of construction by endorsements such as:

Ordinance or Law Coverage - . It provides coverage not only for increased costs of construction (Coverage C), but also for losses associated with undamaged portions of the building (Coverage A) — as well as for demolition costs (Coverage B).
Inflation Guard - This coverage endorsement is available from certain companies and can account for the cost of inflation by automatically providing a percentage increase (typically 2% - 8%) over the policy period.
Extended Replacement Cost and Guaranteed Replacement Cost - This is offered by several insurance companies to provide additional limits following a loss. Extended Replacement Cost is common on homeowners which increases your policy limit an additional 25% or 50%. Guaranteed Replacement Cost is less common and generally more expensive. If your home is destroyed, this policy will pay whatever it costs to rebuild your house.

Communicate with your insurance carrier. Lastly, make sure to inform your insurance carrier (and agent) whenever you conduct renovations or implement other improvements in your property (e.g., adding a new deck or remodeling the bathroom). Update your policy as needed.
Consider working with a local builder. Are you unsure of where to begin, consider working with a builder to get an estimated rebuilding cost and share that data with your insurance agent to take the necessary steps to protect your property.

General Liability and Property Damage - One area that some insureds may overlook is the need for additional liability limits for property damage you become liable for. If you are working on someone else's property, the reasons remain the same but be sure to consider the reconstruction cost of your customers' building or homes first.

Example: Your crew is completing a remodel on a commercial building and accidentally cause an electrical fire resulting in a total loss to the building. The cost of reconstruction today exceeds the $1,000,000 General Liability limits on your policy. You can give yourself additional layers of liability coverage for bodily injury and property damage with an Umbrella policy.
For more personal risk management guidance or questions about your policy's coverage limits, contact us today.
---
More Industry News
Want to stay up to date on the latest community and insurance news? You can find more on important topics on our blog.
About Top O' Michigan Insurance Solutions:
At Top O' Michigan Insurance Solutions, we pride ourselves on using our skills to provide clients with competitive pricing, stability and understanding, and peace of mind. With eight locations throughout Michigan and 24/7 client access, our team is your 'expert buyer' of insurance for home, auto, farm, boat, motorcycle, business owners, workers compensation, bonds, life and health, employee benefits and more.

We will provide unparalleled and caring service to our clients through our knowledgeable staff and give back to our employees, agency, industry and our communities. Part of our mission is to give back to the Michigan communities we serve. This is something we take action on through We Care and you can learn more about our community outreach at TOMIA247.com/WeCare.
National Resources, Locally Sourced.
---
Disclaimer: This Blog/Web Site does not provide insurance or legal advice. This site is for educational purposes only as well as to provide you with general information and a general understanding of insurance, not to provide specific legal advice or specific contract advice. Viewing this site, receipt of information contained on this site, or the transmission of information from or to this site does not constitute a client relationship.
The information on this Blog/Web Site is not intended to be a substitute for professional insurance or legal advice. Always seek the advice of a licensed agent in your state pertaining to insurance and legal issues.
Author: Tyler Bartosh
Sources: Business Insider; BizJournals.com; ConstructionDive.com; InsuranceBusinessMag.com; Nation Association of Home Builders; AdjustersInternational.com; Zywave, Inc
Share on Facebook
---