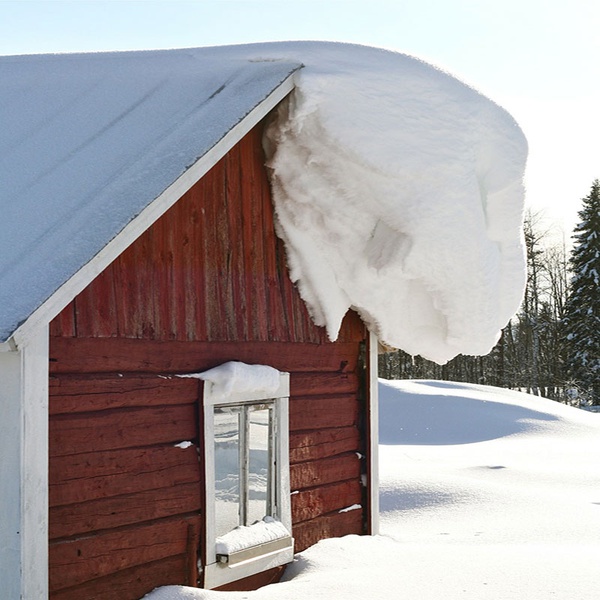 Prevent Damage from Weight of Ice & Snow and Ice Dams
Posted: 1 year, 7 months ago
Prevention Tips
There are several things you can do to prevent damage from the weight of ice and snow. Here are the top 3:
Keep your roof in good repair - Doing regular maintenance, especially in the fall. This means cleaning the gutters because water can get trapped in clogged gutters which can form ice dams in the winter. This will prevent any melting snow from flowing away, and may cause it to flow back into your house instead.
Make sure your attic is well insulated to prevent heat from escaping through the roof -

This will help to keep heating costs down throughout the winter and also will prevent any accumulated snow from melting too quickly. Melting snow can possibly cause water to enter your home. The process of melting and refreezing can add additional weight and eventually cause even more accumulation on the roof.

Hire a professional contractor to remove excess snow piling up on your roof - The dangers of a slippery roof are obvious and you don't want to end up with an injury from falling off the roof...regardless of how fluffy the snow may look. (NOT LIKE THE PHOTO BELOW)
Michigan enjoyed a slow start but in January Mother Nature made up for it with the double whammy of a Polar Vortex and heavy snows. Now is the time for a few reminders on how you can be prepared.
Weight of Ice and Snow
In many areas of our state, heavy snows have built up on houses, pole barns, commercial buildings and a variety of other structures over the past few days from enhanced lake effect as well as system storms.
While a warm up predicted for this weekend is generally welcome news, it also comes with a weather report forecasting rain. We know from past experience that this will lead to excessive weight from snow and ice, leading to structural stress and damage to roofs and walls, even to collapse. This is particularly true for flat roof structures.
**Saturated snow weighs approximately 20 pounds per cubic foot. Can your roof handle that?
Homeowners should be sure to monitor snow build up on their roofs and take steps to reduce it before the rains come. Some areas you should be concerned about the snow/ice loads on include:
• Roof overhangs especially where there are large overhangs projecting several feet beyond the horizontal supports
• Multilevel roofs where the lower portion of the roof is subjected to sliding and/or drifting snow or the accumulation of melting snow
• Valleys of your roof that can experience substantial snow or ice accumulation due to drifting, sliding or melting
Ice Dams
This same snow buildup and rain/melt cycle can lead to ice dams. Early action now can prevent water and ice work up under the shingles entering the attic and damaging ceilings, walls and contents. To help prevent dams from forming:
Keep gutters and down spouts clear of debris, snow and ice, so melting roof snow can flow.
Keep snow on your roof to a minimum. Roof rakes let you stand on the ground to safely pull the snow off the roof.
Even if you can only clear the 2 or 3 feet near the lowest part of your roof, this will help prevent ice dams from forming.
Evaluate attic insulation and ventilation. Good airflow is essential to a cool, dry attic.
Share on Facebook
---