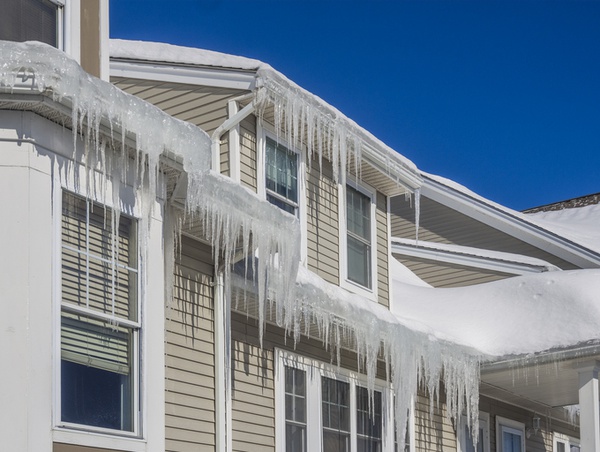 4 Tips for Winter Roof Maintenance
Posted: 3 weeks, 3 days ago
The Michigan winters can bring a lot of rain, sleet, ice, wind, and of course snow. Depending on what side of the discussion you are on, the extra snow can bring heaps of fun or added work. Keeping your roof in good shape is truly a year-round job but it is especially important that you focus on solid roof maintenance during these cold-weather months. Between all of the precipitation and frigid temperatures, the winter weather can also bring on some extra wear and tear to your roof. Here are Four Winter Roof Maintenance Tips to help you prevent costly damage or losses at your property.
Clear the roof and gutters of debris, leaves and branches before a major snowfall.

This is best completed before winter sets in. Be sure that you clear your gutters and roof of debris from the summer and fall. This can help avoid ice dams so it is important that water and snow can easily run off the surface and into your gutters.
Be sure that you also cut back any tree branches near or touching the roof. The ice build-up on the trees can cause them to hang lower or even break off causing additional damage or problems throughout the year.

Remove snow and ice as soon as possible.

Although it may be a nice picture to look at, the snow and/or ice building up on your roof can be detrimental. The weight of snow and ice can lead to collapse or additional build-up creating ice dams.
If you can safely do so, be sure to remove all ice and snow from your roof as quickly as possible. Since these conditions can make it very slippery, it is best to hire a roof maintenance company to help take care of the snow/ice for you.

Check your attic.

Pests can be one of the biggest problems a property owner can face throughout the year. Make sure that your home is "pest-proof" and that you keep an eye out for any signs that unwanted critters may have moved in with you for the winter. Some of these signs include noises in the attic, damage to gutters or holes/damage in your siding.
You will also want to make sure you have proper insulation and ventilation. These are critical to the roof when the weather begins to get colder. You may be able to notice common signs of ventilation issues such as heating/cooling issues or a build-up of condensation/moisture.

Get a complete roof inspection by a professional.

A licensed roofing contractor can provide a full inspection of your roof. They can then help identify any weaknesses or existing damage that needs repairs.
By hiring a professional, you can ensure that repairs to siding, flashing, shingles, gutters are done correctly.
It is always best to get this done before the severe winter weather hits but you can follow these four winter roof maintenance tips to protect your roof. Taking care of any small issues now can help prevent them from 'snowballing' into a major catastrophe later in the winter. Not sure where to find a local roofing contractor, please reach out to any member of our agency for suggestions in your area.
---
This Blog/Web Site does not provide insurance or legal advice. This site is for educational purposes only as well as to provide you with general information and a general understanding of insurance, not to provide specific legal advice or specific contract advice. Viewing this site, receipt of information contained on this site, or the transmission of information from or to this site does not constitute a client relationship.
The information on this Blog/Web Site is not intended to be a substitute for professional insurance or legal advice. Always seek the advice of a licensed agent in your state pertaining to insurance and legal issues.
Author: Tyler Bartosh
Share on Facebook
---